HomePage Image Scroller

$20.00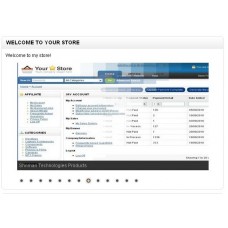 Extension For

Opencart

Developer

Shriman Technologies

Compatibility Version

1.4.7, 1.4.8, 1.4.8b, 1.4.9, 1.4.9.1, 1.4.9.2, 1.4.9.3, 1.4.9.4, 1.4.9.5, 1.4.9.6, 1.5.0, 1.5.0.1, 1.5.0.2, 1.5.0.3, 1.5.0.4, 1.5.0.5, 1.5.1, 1.5.1.1, 1.5.1.2, 1.5.1.3, 1.5.2.1

Created Date

2012-01-10 12:53:53

Recently Modified

2012-07-30 07:13:46

Views

11060

Sold

1

Votes

1

Rating

0 reviews

|

Write a review
HomePage Image Scroller
Use this image scroller, to scroll the list of images which is placed under the specific folder.
Our program will ready the images files from the specific folder and then display the images with the random styles.
Click Home tab in our website, to visit the real time images scroll details.
We can place the interactive header and next,previous images.
Write a review
Your Name:
Your Review:
Note: HTML is not translated!
Rating:
Bad
Good
Enter the code in the box below: