Get One Product Free

$30.00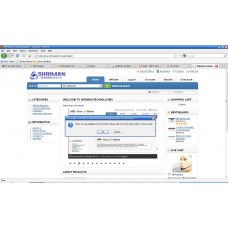 Extension For

Opencart

Developer

Shriman Technologies

Compatibility Version

1.4.7, 1.4.8, 1.4.8b, 1.4.9, 1.4.9.1, 1.4.9.2, 1.4.9.3, 1.4.9.4, 1.4.9.5, 1.4.9.6, 1.5.0, 1.5.0.1, 1.5.0.2, 1.5.0.3, 1.5.0.4, 1.5.0.5, 1.5.1, 1.5.1.1, 1.5.1.2, 1.5.1.3

Created Date

2012-01-10 12:41:04

Recently Modified

2012-07-30 07:15:09

Views

12046

Sold

5

Votes

1

Rating

0 reviews

|

Write a review
This modules allows the customer to buy a single product with the free of Cost, if the customer met certain Order Amount based on the admin setup.
Store Owner can dynamically select the product details and eligible order amount through the admin setup page.

This module includes the following lines Of Code:
1. Admin Can able to Update/Change the Eligible Order amount.
2. Admin Can able to Update/Change the free product.
3. Customer is eligible with this free product once he purchase a single/more than one product with the order amount mentioned in the Admin
4. If the customer selects more than one quantity for this free product, he should not need to pay for the first quantity of this free product.
Write a review
Your Name:
Your Review:
Note: HTML is not translated!
Rating:
Bad
Good
Enter the code in the box below: